Packing list and itinerary for the Camino de Santiago
Later today I leave for a trip to fulfill a childhood dream.
If all goes well, on Tuesday morning I will take my first steps on the Camino de Santiago, a 500-mile pilgrimage across northern Spain. I have wanted to walk the Camino since I first read about it in the eighth grade, and have been preparing for over a year now.
My feelings are all over the place - excitement, nerves, fear, impatience. But the anticipation and daydreaming will soon give way to long days in the Spanish countryside, lots of cafe con leche, and very sore feet. I can't wait.
What is the Camino de Santiago?
The Camino de Santiago, which translates to the Way of St. James, is a pilgrimage that culminates in the Cathedral in Santiago de Compostela. There legend says that the apostle James is buried.
There are numerous paths that people take to get to Santiago, but the oldest, most popular route (and the route that I'll be following) is the Camino Frances. The Frances officially starts in St. Jean Pied-du-Port in the mountains of France just a few miles from the Spanish border.
The full route is 769 kilometers from Santiago, or 477 miles. Additionally, you can choose to continue on from Santiago to Finisterre on the coast of Spain. I plan to do the additional section to Finisterre, bringing my total to just over 500 miles.  
While people will start from anywhere along the path depending on how much time they have and what they're comfortable with, St. Jean is the traditional starting point. And pilgrims must walk at least 100km to receive their "Compostela" or certificate of completion.
Along the way, walkers can stay in albergues, special hostels that only admit pilgrims. Although anyone can request a pilgrim passport marking them as an official pilgrim. Cafes and restaurants along the way will also typically offer a special pilgrim's meal (the menu peregrino).
There is so much infrastructure today that I've heard people jokingly refer to it as a 500-mile bar crawl. It's certainly not as rugged as a trail like the Appalachian Trail or Pacific Crest Trail. But the Camino can still be grueling (my guidebook suggests days ranging from 11-30+ miles) and is a profound and meaningful experience for most who walk it.
Why I'm hiking the Camino
I'm not religious.
Growing up in South Carolina, I was active in the Episcopal Church, and it was an important part of my life. But once I got to college I stopped going to church, and have never felt right going back. If anything, the little I know about Buddhist philosophy appeals to me more now than Christianity.  
I also don't have some big grand question I'm trying to answer.
I want to ponder what I should do next with my life, yes, but I've been pondering that for the last month. I will continue to ponder it when I get back and would wager a guess that I won't really come to any answers until I start actively trying things again.
I want to hike the Camino for the adventure, the challenge, and the simplicity.
When your feet are aching on the trail, your back is coated with sweat, and you can't wait to get to your next stopping point… everything else fades away. My anxiety, the stresses and expectations of modern life. Everything becomes simpler.
It's a chance to test yourself, to truly immerse yourself in another culture, and to be very in the moment. It's the same thing that draws me to the outdoors and to backpacking.
My itinerary
I leave for Spain on Saturday, September 16, and arrive in Barcelona on Sunday, September 17. There I plan to spend the night with a good friend, before taking a train on Monday to Pamplona (the closest major city to St. Jean).
In Pamplona, I have a taxi reserved to get me to St. Jean. Unfortunately, there's only one bus a day from Pamplona to St. Jean. That bus leaves at 12:05 every day, and the only trains from Barcelona to Pamplona get in at 1pm or later (whether you leave at 9am or 6am).
I decided I wanted a night to visit with my friend in Barcelona and didn't want to spend an extra night in Pamplona en route to starting the Camino, so I opted for a taxi. The bus costs 12€, the taxi costs… 113€. Ouch.
But the company I booked through specializes in transport for pilgrims and gives you the option to say you'd like to travel with other pilgrims. Then, if possible, they'll match you with pilgrims arriving at the same time so you can split the cost. But I'll just have to wait and see what happens.
I got my first lesson of the Camino when I found out one of the first places I wanted to stay (the albergue in Orisson) was already booked up more than a month in advance. So I went ahead and booked my first two nights.
In St. Jean I'll be staying in a lovely smaller albergue on the edge of town, that had great reviews and ducks in their pictures (cute ducks should always be a priority when picking accommodation).
Then in Roncesvalles, I'll be staying in the main albergue, which sleeps 130+ pilgrims.
From there I'm hoping to go with the flow, and either just stay wherever there is space when I get into town or book a day or two at a time. The Camino is getting more and more popular every year, and so the "bed race" has become a very real phenomenon. But I very much want to stay open to following my heart (and my sore feet) so am going to resist the urge to book too much too soon.
I do, however, have a deadline. Two actually.
My sister is going to join me in Sarria to hike the last 100km on October 22, so whatever happens, I have to be in Sarria by the 22nd. And then my girlfriend is going to join us in Santiago de Compostela on the 28th and hike with us to the Finisterre on the coast.
I also have a friend from the UK who is going to join me for a day or two somewhere in the middle of the hike. We'll check in and figure out a meeting point later.
So other than my deadlines in Sarria and Santiago, I am free to go with the flow. I know I want to take a couple of rest days in some of the larger cities and would like to break up some of the stages (the sections recommended by the major guidebooks) into smaller hikes. But beyond that, I'm open to what feels right.
My packing list
I've spent more time sweating my packing list than just about any other detail as I've prepared for my trip.
What can I say? I'm a gear nerd.
I love the process of testing out new gear and getting your pack dialed in. So I've read blog posts, watched YouTube videos (the post-Camino gear reviews are particularly enlightening), done shakedown hikes, and made countless trips to my local REI.
A good rule of thumb is to aim for 10% of your body weight or less. We intentionally don't keep a scale in our house, but the last time I weighed myself I was around 175 pounds. The 2 liters of water I plan to carry will add about 4.5 pounds, so I aimed for under 14 pounds.
In the end, my pack is just over 13 pounds and I'm pretty happy with everything. Here's the full breakdown on LighterPack (an awesome tool used by ultralight backpackers):
One consistent thing I found surprising is that I often preferred cheaper gear to the more expensive options. In some cases, it just fit me better. Also, if I find I don't like it once I'm on the trail I can more easily ditch it and try something else. There are outfitters in most of the larger cities along the way.
Pack
I went with the Gregory Focal 48 for my backpack.
I love my pack. It's a lightweight version of a traditional backpack. So it still has the support and breathable pack panel of a modern internal frame pack but at a weight of just over 2.5 pounds (compared to 4+ pounds for some of the Osprey packs I looked at) and a price point of $230 (compared to $500+ for a lot of true ultralight packs).
It's a little larger than what I need for the Camino, I think 35-40L would have been plenty. But it's a perfect size for weekend backpacking trips which is most of what I will use it for. While I would love the extra weight savings and waterproof element of a true ultralight pack, I really love the breathability and comfort of my pack.
My absolute favorite feature though, is that the pack has slits in the side mesh pockets which make it super easy to grab a water bottle without taking your pack off (I much prefer water bottles to bladders).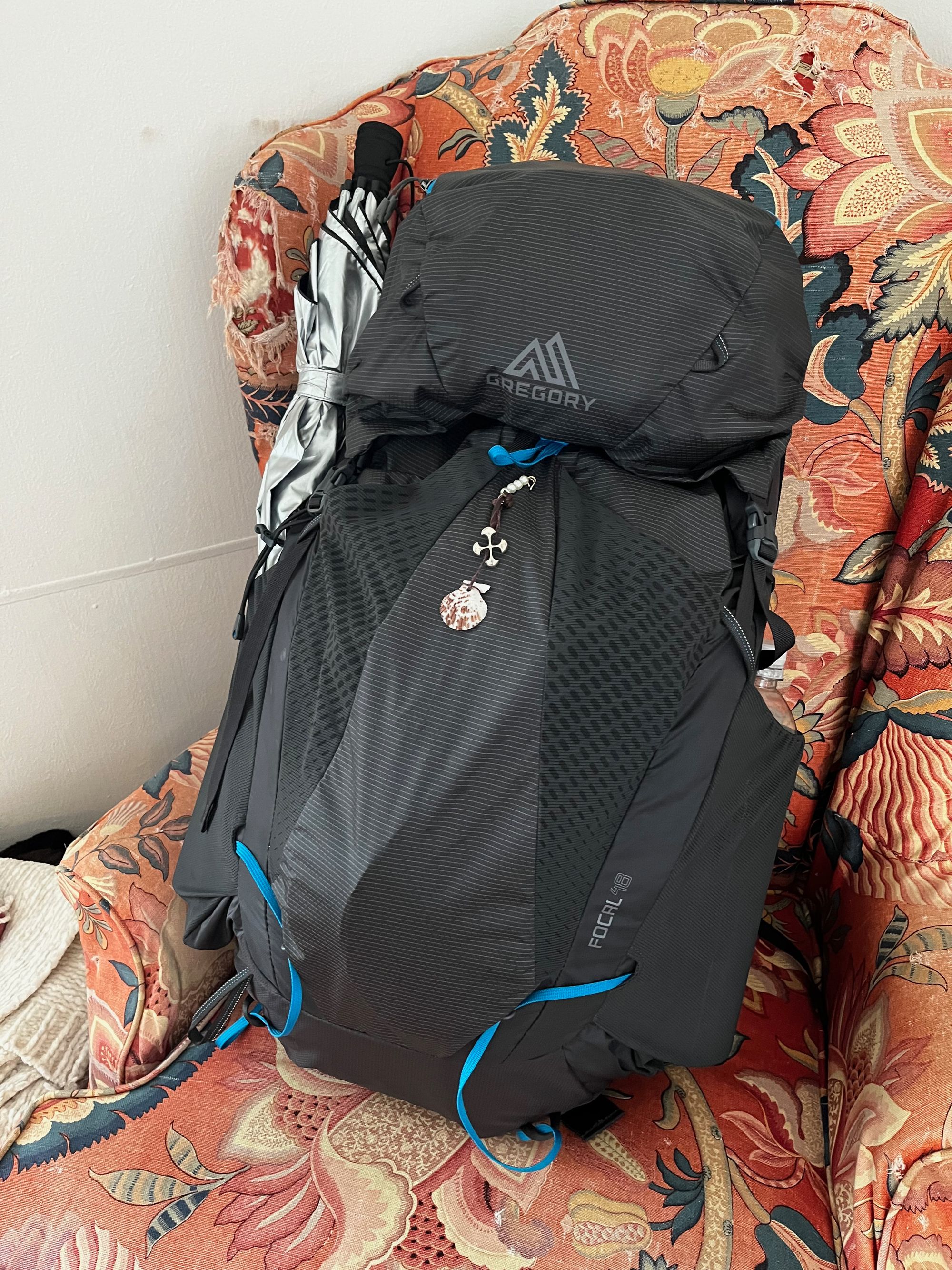 Sleep system
All albergues will have sheets, and most will have a blanket for you to use, so some pilgrims insist there's no need to take bedding. However, most will opt for either a silk sleeping bag liner, a lightweight sleeping bag or quilt, or both.
The silk sleeping bag liner is supposed to help reduce your chances of getting bed bugs in your gear (apparently bed bugs won't nest in silk), although it won't prevent them from biting you. And with a liner or sleeping bag you don't have to touch the bed directly, which some people prefer.
I'm not much of a germaphobe, and since I'm going in September-October when it will start to cool off I wanted something a little warmer but still lightweight. So I opted for a quilt, specifically the Thermarest Argo Blanket (an alternative to the popular Rumpl blanket). I plan to treat my blanket, bag, and clothes with Permethrin to reduce the chances of picking up bed bugs. And I opted for synthetic so that if I do get them I can wash everything on high heat.
I'm also taking plenty of earplugs with me to help me sleep, although I opted against a sleep mask.
Clothing
After a LOT of deliberation on clothing, I decided to take:
1 REI sun hoodie
1 Target brand quick-dry t-shirt
1 pair of Lululemon joggers
2 pairs of lightweight Target brand running shorts
2 pairs of REI brand Merino underwear
3 pairs of socks (2 Darn Tough, 1 Injinji toe socks)
The common wisdom amongst pilgrims is to bring zip-off pants rather than pants and shorts, but I just couldn't bring myself to do it. I hate the way they look. I even tried a pair of REI women's zip-offs because the shorts are closer to the length I like to wear. But in the end, they were noisy so I just went with cheap Target brand running shorts and my trusty Lululemon joggers.
For shirts I decided to take a Target brand quick dry t-shirt (that I like better than the far more expensive Patagonia t-shirts I tried) and my REI Sahara sun hoodie. I figure the sun hoodie is light enough to wear on a warm day, warm enough to use as an extra layer, and will provide extra sun protection on the Meseta (the long, shadeless section in the middle of the Camino).
I debated taking an extra shirt, but ultimately decided if I need one I'll try to find something cool along the trail.
I also ordered a pair of Injinji toe socks to take along with my Darn tough Merino wool socks, because my toes tend to cramp together and I can get blisters between them.
Footwear
I am firmly in the trail runners camp when it comes to hiking shoes, rather than traditional boots. They're lighter weight, more comfortable, easier to slip on and off, and often look better IMO. I've worn trail runners when backpacking for the last few years.
However, I didn't love the trail runners I had and they were made of Goretex (which dries super slowly once water gets inside - which it will on a rainy day) so I decided to get something new. I started off with the most popular choice for the Camino - Altra Lone Peaks. I loved the way they fit, and while the wide toe box looks goofy as hell I was converted pretty quickly. However, I have high arches so they didn't fit my feet well, and gave me foot pain.
I looked at a lot of different pairs of trail runners, and again made a choice partly out of vanity. Almost all of the trail runners I found with decent arch support looked like ass. So I eventually opted for the Nike Pegasus. They come in great colorways, are relatively cheap, still have a decently wide toebox, and with an insole from my podiatrist are super comfortable.
I'm also bringing a pair of lightweight Teva sandals for shower shoes and knocking around the hostel or around town. Most pilgrims seem to opt for cheap plastic flip-flops but I wanted the strap in case I needed to walk a longer distance in them for whatever reason.
Rain gear
One goofy piece of gear that I'm super excited to try out is my ultralight umbrella. It cost $30, will hopefully keep me (and the area around me) more dry than a rain jacket, won't make me sweat, and will serve as a sunshade on extra hot days. I use these simple elastic straps to attach it to my pack so I can carry it hands-free while walking.
That said, I am also taking a rain jacket to use in case I don't like the umbrella or it's really windy. And it will also serve as a super light extra layer. This is one area where I did upgrade to something nicer. My parents gave me a Montbelle Versalite for my birthday, which weighs just 7 ounces, uses Goretex, and has pit zips in case you need some ventilation.
I'm also taking a basic REI pack cover, and will probably keep my quilt and clothes in a trash bag inside of my bag as an extra layer of protection.
Electronics
When I first started planning my kit, I thought I might take a nice camera, a Kindle, and a journal. But as the weight started to add up those were the first things to go. So in the end, the only electronics I'm taking are my iPhone, a battery pack, a small flashlight, and a charger/adapter. I'll use the Kindle app on my phone, and use Notes as my journal.
Toiletries & first aid kit
I'm trying to keep my toiletries and first aid fairly light while bringing more than I would on a typical backpacking trip. I'm opting to use half a bar of Dr. Bronner's for soap, shampoo, and laundry detergent. I also went heavy on the Leukotape (the absolute best blister tape - this shit does not fall off) and the ibuprofen. And I have a tendency to chafe so the baby powder is coming too.
Other
I'm bringing a super light hip pack to use to keep my documents close to me at all times, and to carry my phone, etc. when I go into town for a day. I debated bringing a small, lightweight tote bag to use for groceries or a day bag, but opted not to. I figure that's something I can easily find if I need one. And it might be a fun thing to have from the Camino. I also found these tiny corkscrew keychains - I got one for myself and one as a little gift for my sister and dad.
Training for the Camino de Santiago
I have not taken my training super seriously, and I'm a little nervous I'm going to regret it. The very first day on the Camino is going to be 16 miles and 4,000 feet of elevation gain. I've been backpacking sporadically my whole life, but I live in Michigan now and the state doesn't have much in the way of mountains. So I haven't done any serious elevation in a couple of years.
I have done 3 shakedown hikes - weekend backpacking trips ranging from 5-10 miles a day. These have been hugely beneficial for figuring out my gear and getting comfortable with everything.
And for this week I have been trying to walk at least a few miles every day. I had intentions of squeezing in a proper 14-mile hike this week, but I've been busy trying to get ready and see friends so didn't make it happen.
That said, I'm cool with being uncomfortable. I've done enough backpacking to know how to push through, and type 2 fun is my favorite kind of fun.
Buen Camino
The standard pilgrim greeting or goodbye is simply to say, "¡Buen Camino!"
I'm trying to go into this trip with that as my mantra. I want to savor the moment, but not be too precious about it. I want to let what happens happen and be prepared to go with the flow.
I'm sure it will be hard. There will be days that are fun and exciting, there will be days that are grueling or just dull.
If I'm feeling spiritual one day I may hike alone in quiet and observe the world around me. If I'm bored and missing home I may listen to my favorite fantasy football podcast, or call a friend.
Whatever the walk brings, "¡Buen Camino!"